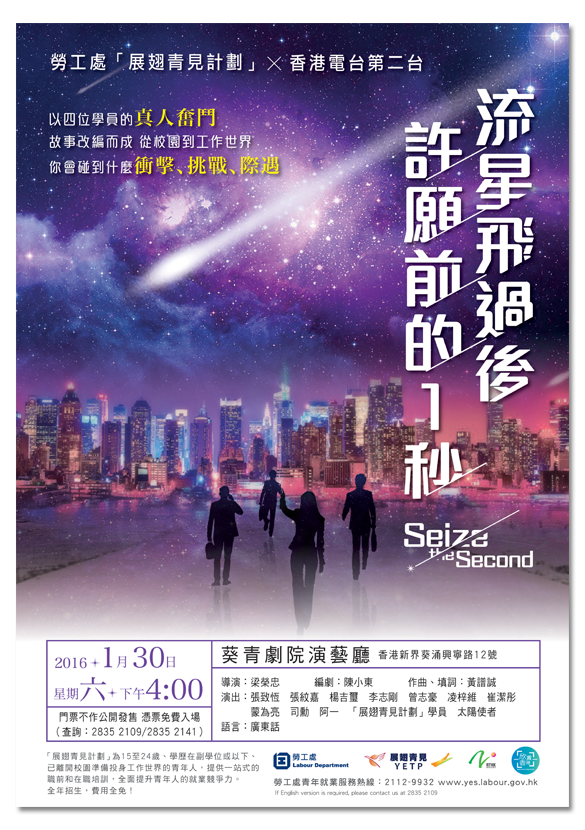 The Youth Employment and Training Programme (YETP) of the Labour Department and Radio 2 of Radio Television Hong Kong (RTHK) jointly produce a stage drama named "Seize the Second". The performance will be staged at Kwai Tsing Theatre on 30 January 2016.
"Seize the Second" is originated from the encouraging stories of four YETP trainees. They are Ms Silky Tang, an Aircraft Maintenance Approved Technician in an aircraft engineering company; Mr Billy Ho Chun-wai, co-founder of a private music school; Mr Johnny Choi Yee-tak, Sports Officer in a prestigious club and Mr Stephen To Kwok-shing, Centre-in-charge of a social welfare organisation.The four youngsters found their career direction through on-the-job training of YETP. Their perseverance to overcome challenges at work enabled them to achieve a bright future. Their striving efforts would be unveiled in the stage drama and their stories could encourage youths to fly high and achieve their dreams.

The drama is adapted from the true stories of four young people. Siu Tang determined to become an "Aircraft Maintenance Craftsman Trainee" while her boyfriend just proposed to her; Michael who was striving for his music dream faced a strong temptation to earn quick money; Chin Hung, a playful juvenile, spent all his time only on football and lost his direction; Chun Fai was despaired of himself and his future after a failure in the public exam…
Facing all these challenges and struggles, would they seize the second and persist to make their dreams come true or would they just give up?
For more details about the stage drama, please see our website/
Facebook Fanpage
.

Tickets are not for sale. Enquiry for tickets: 2835 2109 / 2835 2141