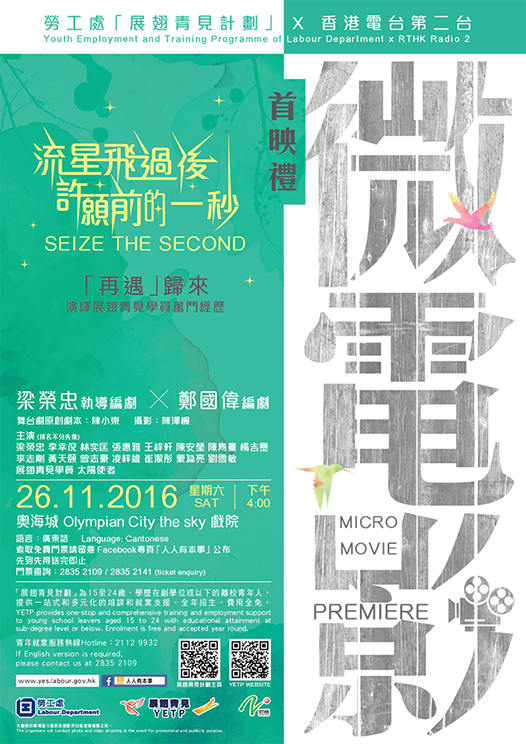 Riding on the success of the stage drama "Seize the Second" performed in January this year, YETP and Radio 2 of Radio Television Hong Kong (RTHK) collaborated again and jointly produced a micro movie of the same name. The micro movie "Seize the Second" is adapted from the stage drama, which features on the encouraging stories of four YETP trainees. The four characters are Ms Silky Tang, an Aircraft Maintenance Approved Technician in an aircraft engineering company; Mr Stephen To Kwok-shing, Centre-in-charge of a social welfare organisation; Mr Ryan Lee Wai-yin, Senior Business Development Executive promoting green and sustainable living and Mr Brian Lam Wai-chung, Assistant Manager of a German-based company located in Hong Kong.
The four youngsters found their career direction upon joining the on-the-job training of YETP. In addition to the encouragement and guidance from the employers, case managers and training bodies, their perseverance to overcome challenges at work enabled them to achieve a bright future. Their striving efforts would be unveiled in the micro movie and their stories could encourage youths to fly high and achieve their dreams.
The micro movie is directed by Joey Leung and written by Joey Leung and Matthew Cheng. Performers include Joey Leung, Gin Lee, Phil Lam, Regen Cheung, Jonathan Wong, Chan On Ying, Phoebus Chan and Yang Kut Si, DJs of RTHK, YETP trainees and Solar Ambassadors of RTHK. With a view to providing an opportunity for YETP trainees who are talented movie lovers to learn acting skills and to participate in professional micro movie production, an audition for YETP trainees was conducted on 10 August 2016.
The Premiere Show for the micro movie was held at the sky cinema at Olympian City on 26 November 2016 afternoon. The micro movie will have its TV premiere at 8-9pm on 1 January 2017 (Sunday) on RTHK TV31.
The organisers will conduct photo and video shooting in the event for promotional and publicity purpose.