Ethnic Minority Ambassador Programme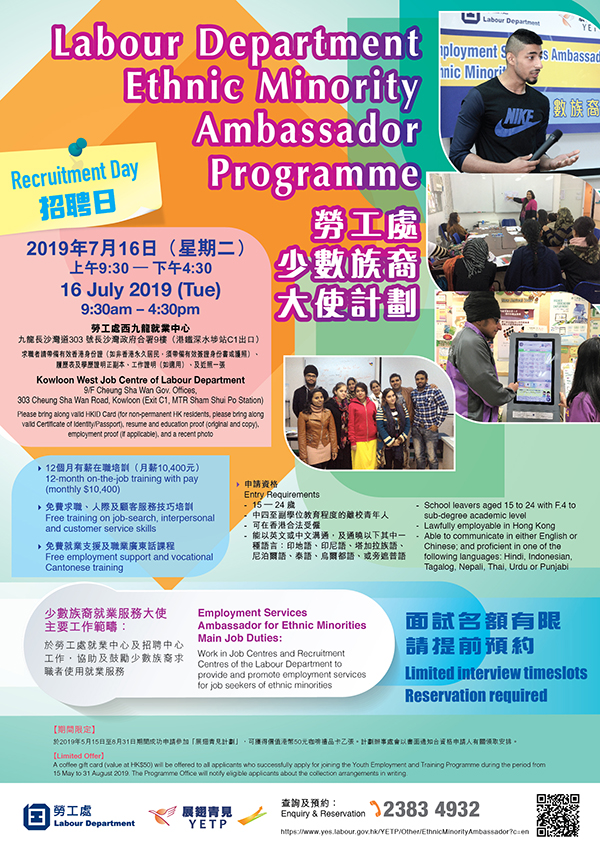 The forthcoming Ethnic Minority Ambassador Programme is now open for applications. Vacancies of the post of Employment Services Ambassador for Ethnic Minorities are offered. The work life and training of the Ambassadors are shown below for better understanding of the Programme.
The Ambassadors for Ethnic Minorities not only can work in the Labour Department (LD) to provide assistance for the public, but also can participate in various training.
Pre-employment training

The tailored pre-employment training furnishes the Ambassadors with basic knowledge of LD's services before they start work. Career planning is also an integral part to equip the Ambassadors for their future.

The Ambassadors shared their learning experience during the graduation ceremony of the pre-employment training. The former Secretary for Labour and Welfare, Mr Matthew Cheung Kin-Chung, attended the ceremony and gave encouragement to the Ambassadors.
Ambassadors at work

On-the-job training:

Employment Services Ambassador for Ethnic Minorities

Ambassadors work in LD's Job Centres and recruitment functions to provide assistance for job seekers, especially the ethnic minorities, in using LD's services.

Click here for more information of the job.

Click here for experience sharing of an award-winning programme participant.
Development workshops

LD organises development workshops for the working Ambassadors to help them further adapt to the work and plan their careers. The former Commissioner for Labour, Mr Donald Tong Chi-keung, made a visit to the workshop to have exchange with the Ambassadors.
Chinese workshops

During the on-the-job training period, LD arranges language workshops for the Ambassadors on vocational Cantonese for improving their language and communication skills.
The upcoming recruitment of the Ethnic Minority Ambassador Programme will be held on 16 July 2019 (Tue). If you are interested, please call us at 23834932 on or before 15 July 2019 for registration and interview appointment. Interview timeslots are limited. Do not hesitate to call.

【Limited Offer】 A coffee gift card (value at HK$50) will be offered to all applicants who successfully apply for joining the Youth Employment and Training Programme during the period from 15 May to 31 August 2019. The Programme Office will notify eligible applicants about the collection arrangements in writing.
Date
16 July 2019 (Tuesday)
Time
9:30 am to 4:30 pm
Venue

Kowloon West Job Centre of Labour Department

9/F Cheung Sha Wan Gov. Offices, 303 Cheung Sha Wan Rd.

(Exit C1, MTR Sham Shui Po Station)

Enquiry
2383 4932 (Limited interview timeslots, reservation required!)